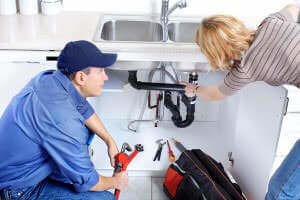 When you have plumbing problems in your home or office building — and they can happen to anyone at any moment — it is important to have a plumber you can trust on hand. At the first sign of a leak or clog, call Biard & Crockett to fix the problem and to ensure the likelihood of the problem reoccurring again is minimized. Do you see water puddling under your sink fixtures? Is water draining slower than normal? If you see water spots or hear dripping noises, these are indicators that you need a plumber to come out and have a look. No matter the problem, Biard & Crockett has the skill and know-how to repair it.
Performing regular maintenance on your sewer system will prevent future problems from occurring down the road. Minor problems that arise can be eliminated with a simple phone call. Leave it up to Biard & Crockett to keep your system running smoothly with our leak detection technology and video camera equipment that puts us ahead of the problem. We are able to gather 360-degree images of your drains and pipes, so we know with 100% certainty where the problem lies and the best motives for repair. We offer various solutions to fit your budget and timeframe. We provide free estimates, so you can make the decision that is right for you.
With every job, we bring every tool, from snakes to augers, to fix your plumbing problem during our first visit. Our technicians are trained under a rigorous program that prepares them for every potential scenario. They can detect and repair every type of leak, and leave you home in better condition that they found it but drying and cleaning all wet areas and repairing and repainting cracks where necessary. Look no further, Westminster – we are your go-to plumber of choice!
Gas and Water Repiping Services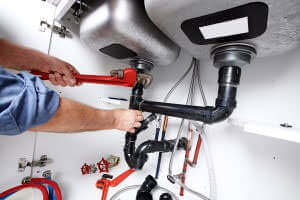 When you get the news that your plumbing infrastructure is old and in need of repair, it can seem like a tremendous undertaking at first. However, when you hire Biard & Crockett for the job, we work with you to reduce your costs and headache that are typical natures of the problem. The longer you wait for repair, the higher risk you run for rot and mold, or gas leaks that can harm the health of you and your family. Both problems can depreciate the value of your home and standard of living. Trust the professionals at Biard & Crockett to respond promptly and successfully to your needs.
We know that when it comes to your home and office, comfort and confidence are critical. It is important to have your water and gas lines checked regularly to ensure they run smoothly and that you are safe in your home. Biard & Crockett takes every measure possible to help you get your home in working condition and keep it there for years and years to come.
Water Filtration and Backflow Prevention
Our water filtration and backflow prevention systems give you the assurance that your water is the purest and best tasting possible. If you want better drinking water for you and your family, have us out to perform a water quality test. From there, we can make suggestions for the system that best suits your needs. Depending on the hardness of your water, different applications apply, and we can provide all of them.
For water that is too hard with excess minerals, our in-line filters and reverse osmosis filters work to eliminate these particles that make water harder to digest. Not only will we find the filter for you, we can perform regular maintenance, so you don't have to worry about whether or not it is working at peak efficiency. We even offer our clients tutorials, so you can maintain your system yourself and have the ability to troubleshoot how well it is functioning.
Everyone who using water from public utilities is at risk for backflow contamination. What is this? Pressure in public lines can release dirty water into your water pipes. With our backflow prevention systems, your water supply is immediately shut off in the event that dirty water enters your pipes. This precautionary measure eliminates the possibility of contamination and keeps you and your family safe from unclean water.
Water Heater Repair and Installation
Biard & Crockett has over 60 years of experience with hot water heater installation and repairs, so we are experts in our field. We also know the importance of having hot water when you need it, so regular maintenance on your water heater system is just as important as maintenance on your water and gas pipes. No one likes to run out of hot water during the middle of a shower, so don't let that be you. Annual tune-ups are recommended for the homeowners in Westminster and for those in historic homes, it may be time for a replacement.
We are good at what we do and take pride in offering you the best service around. Call us today to schedule and annual hot water heater tune-up or repair and count on us to guide you to your next heater when it is time. We are knowledgeable on the newer, more energy-efficient models and can work on every make or model on the market. We are dedicated to quality and are your reliable resource for heating your water.
Your Reliable Westminster Plumber for 60+ Years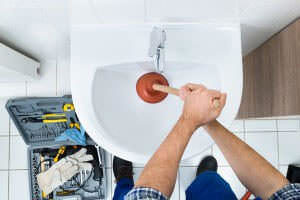 Westminster was once known as an agriculture town, but today, the city is a place rich in culture. Landlocked between Seal Beach, Huntington Beach, Fountain Valley and Garden Grove, Westminster attracts people from surrounding cities and beyond. Westminster has the biggest Vietnamese community outside of Vietnam and is a popular place to go for great food and culture. Officially named Little Saigon, the city is the overseas Vietnam and, yet, won the All-America City Award in 1996.
Rich in history and culture, Westminster is home to many old buildings and home that need regular maintenance to remain standing. Biard & Crockett is committed to serving Westminster to provide the best in plumbing, gas pipes, water quality, and heating. Since 1960, we have been Westminster's solution for clogged or leaky pipes and other home maintenance issues and do not see the end in sight. Call us today and our friendly staff will prove to you that we offer the finest services around, 100% customer satisfaction guaranteed.
Biard & Crockett
Other Orange County cities where we provide Plumbing Services: