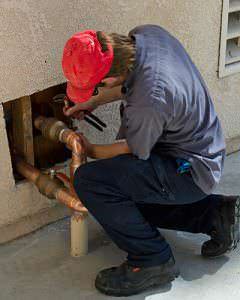 As a member of the Huntington Beach community, Biard & Crockett Plumbing Services Inc. is dedicated to providing residents with the highest quality of service. Operating in the area since 1960, we provide local residents and businesses with the high-quality, dependable service that they deserve. Able to work with pipes of any age and any material, as well as water heaters, water filtration systems, and backflow prevention systems, we offer truly comprehensive plumbing service. When you need help in a hurry, we are only a phone call away.

Fully Licensed and Bonded Plumbing Technicians
We have spent more than five decades dedicating ourselves to our work; as a result, we are masters at our craft. As the years have gone by, we have come across and solved such a wide variety of problems that we are confident we can deal with whatever comes our way. From simply leaks in your pipes to major sewer system overhauls, we can offer you the service you need.
We know that plumbing emergencies always rear up at the worst possible moment. To ensure that you can get the help you need no matter the time of the day or night, Biard & Crockett technicians are on-call 24 hours a day, 7 days a week, 365 days a year. Not only are we in service around the clock, but we also have access to all the needed parts, appliances, and fixtures needed to complete the repairs, thanks to our being a licensed distributor for most major plumbing brands. When you choose our team, you do not need to wait and suffer.
Our technicians are professionals in every sense of the word. You can count on our team showing up in their proper uniform, providing you with the sense of security you need. Once inside your home, you can expect that our team will show both you and your home the utmost respect, leaving their working space looking as good as or better than it did when they came in. Your comfort is a top priority.
Repiping Services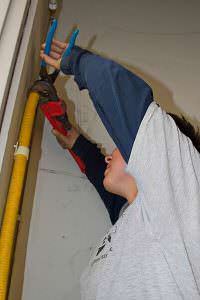 or the team at Biard & Crockett, conservative and budget-friendly solutions are our first resort. Even if it is just a temporary fix, we try to buy you as much time as possible with your current system so you have time to save up for a complete replacement. However, there are times that we come across problems with piping that are too significant to offer even a temporary fix. When this happens, repiping is the only solution. If you are curious about how close your system is to needed complete replacement, consult the average lifespans below.
Copper supply pipes: 50-70 years

Brass supply pipes: 40-60 years

Galvanized steel supply pipes: 50-70 years

Cast iron drain lines: 75-100 years

PVC drain lines: indefinite
In addition to water pipes, we are able to work with gas lines and plumbing-related appliances, offering you truly comprehensive service.
If you are worried about how much repiping will disrupt your life and destroy your home, you do not need to worry with us. We have trained all Braid & Crockett technicians on how to use minimally-invasive repiping techniques, switching out your system without needing to renovate your home. Thanks to this conservative approach to the job, we can be in and out in less than a day.
Water Heaters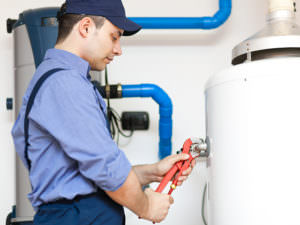 No matter the make, model, or age of your water heater, the technicians at Biard & Crockett can assist you. If you need a new water heater installed, we can do that. If you need routine servicing, we can do that, too. We can even repair a wide variety of problems to help you keep your water heater working for as long as possible.
At the first sign of trouble with your water heater, you should call us. Our technicians can quickly determine the problem and offer you a solution. In the case of severe problems, replacement might be suggested. However, we always try to find a simpler solution first.
If you end up needing a new water heater, our technicians are glad to offer their expert opinion as you select the correct one for your home. We consider variables such as the number of people in your family and your level of water consumption to determine the size you need. Then, we use our first-hand experience with various brands to select the right make and model for you.
Water Filtration and Backflow Prevention Systems
We believe that having access to safe and healthy drinking water is something everyone deserves. As Huntington Beach residents, you already have access to this. However, we also believe that water should be more than simply potable; it should also be tasty and refreshing. If the municipal water offered in Huntington Beach isn't cutting it for you, we have filtration systems that will bring it up to standard.
Here at Biard & Crockett, we offer two different types of water filtration systems: in-line water filtration and reverse osmosis water filtration. We also offer water softening systems. Filtration systems purify water while water softening systems remove the minerals that lead to hard water.
In addition to these systems, we also offer another solution that protects the quality of your water. This solution is called a backflow prevention system. It is meant to protect the health of your family by preventing flowback from the sewer system into your plumbing system. This system detects the reversal in water flow, indicating that contaminated water is coming in, and shuts down your system while alerting you to the issue.
Water filtration systems and backflow prevention systems are in stock at our inventory at all times, allowing us to offer you these solutions at a moment's notice. During the installation process, we will make certain you understand how the systems function and how to use them. We will also discuss setting up a regular schedule for our technicians to service the systems and keep them performing optimally.
Always Here for You in Huntington Beach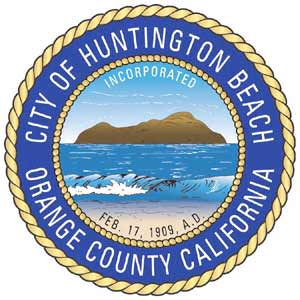 Throughout the city of Huntington Beach, we offer quick and effective service. No matter where you are located, we are here to help. For inspection, maintenance, repair, and replacement, turn to Biard & Crockett.
View our other Orange County Plumbing locations