Biard & Crockett proudly serves all of Orange County including the beautiful city of Stanton, California. As a local company, we strive to maintain our excellent reputation by providing our neighbors with the highest quality in plumbing services. We've been in business since 1960, accruing many years of experience in the industry. Our number one priority is customer satisfaction through quality, dependable service that fixes plumbing troubles once and for all. We are able to work with all piping materials and are experienced working with old and new pipes alike. In addition, we can service water heaters, water filtration systems and backflow prevention systems. We understand that some plumbing needs are urgent. We are able to arrive quickly for emergency plumbing services.
Responsible, Licensed and Bonded Plumbers in Stanton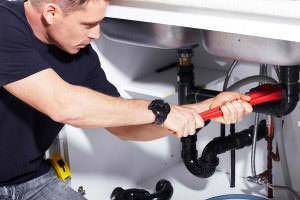 With over 60 years of experience providing high quality plumbing services to our neighbors in Stanton and the surrounding areas, there's nothing we haven't seen. Our skilled plumbers are carefully trained masters of their craft. For this reason, our teams can confidently handle any plumbing problem you may be experiencing. Whether you need assistance with a simple pipe leak or a major overhaul, our plumbing technicians will fix your plumbing so that you can get your life back to normal.
Our company is fully insured and bonded, ensuring that you will have a professional experience from your phone call all the way through to the finishing touches and clean up. Part of our commitment to giving you the best experience possible includes our availability. Plumbing emergencies often appear at inopportune times, which is why we are open for service any time of the day or night. Biard & Crockett Plumbing Services Inc. plumbers are on-call 24 hours a day, 7 days a week, 365 days a year. Rest assured that as a full-service plumbing company, we also have access to all necessary parts to fix your plumbing, including appliances and fixtures so that the job can be completed more efficiently.
You can count on our teams of plumbers to hold high standards of professionalism in every sense of the word. In addition to always wearing our BCPSI uniforms, we also arrive on time and finish each project on schedule. Inside your home or business, we treat it as if it were our own, showing your property the respect it deserves. Once we're finished working, we'll clean up thoroughly so your space is neat and ready to use again.
Services: Repiping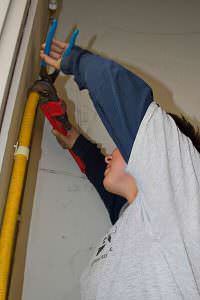 For any plumbing services requested for your Stanton area property, we first complete a thorough evaluation and assessment of the problem. Whenever possible, we choose the least invasive most economical solution. At Biard & Crockett Plumbing Services Inc., we keep your budget in mind and understand that as property owners, expenses are many. However, generalized leaks, old piping and significant damage can mean that temporary fixes are impossible. In these cases, repiping is the only solution. Should your property also require service to plumbing related appliances and gas pipes, we are also able to assist.
In all of our repiping, we take the utmost care to disrupt you and your property as little as possible. We use minimally-invasive piping techniques in order to replace your old system without causing you to renovate your property. Our techniques are also quite efficient, meaning we can usually complete the job within a day.
Services: Water Heaters
As water heaters provide all of the warm water for your property, call us at the first sign of trouble. That way we can work as quickly as possible to make sure you have your water service back in order again. Once you've called, our plumbers will arrive quickly, pinpoint the problem and suggest a solution. In some cases, replacement may be necessary, but we always try to avoid this expensive option.
Should you need a new water heater, our plumbers will be happy to guide you through the selection process to choose an appropriate option for your property. The best water heater for you will depend on the number of people using hot water and your general water consumption. We have first-hand experience with many brands and will be able to help you differentiate between each model to choose one that will satisfy your needs.
Services:
Water Filtration and Backflow Prevention Systems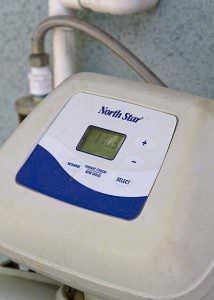 While safe drinking water is made accessible through the city of Stanton, you may wish for a water filter system in order to modify the taste of your water. These filtration systems also help lessen the amount of minerals and other unwanted chemicals in your water.
At Biard & Crockett Plumbing Services Inc. we offer both in-line water filtration and reverse osmosis water filtration. Water softening systems are also available to ensure the removal of minerals from your water.
Additionally, we can protect the quality of your water through backflow prevention systems. These systems are put in place to protect the health of the people who drink the water on your residential or commercial property, detecting when sewer system water backflows into your plumbing system. The system also shuts down the water when this anomaly is detected in order to ensure your safety while you call for assistance.
We are able to offer filtration and backflow prevention systems at all times as we maintain them in stock at our store. When installing, our helpful plumbers take the time to explain the systems and how to use them. Additionally, you'll receive information and guidelines for how to make sure your system is functioning properly.
View our other Orange County Plumbing locations