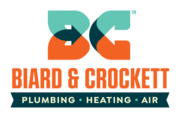 In the city of Cypress, make Biard & Crockett your choice for top-quality plumbing services. Since opening for business in 1960, we've dedicated ourselves to providing all of Orange County with affordable, reliable general plumbing services, water and gas line repiping, water filtration and backflow prevention installations, and water heater repair and replacement. Whether you're a homeowner or business owner, we simplify the process of resolving your plumbing-related issues and maintaining your system at peak operating efficiency.
General Plumbing Services
At some point in time, the vast majority of homes and businesses will develop some sort of plumbing malfunction. Most of these malfunctions are limited in impact, and a plumbing professional can correct them with a fairly straightforward repair. However, some water and sewer line problems have a much more severe impact on the health of your plumbing system, or fall outside the scope of the typical issues that appear in most systems.
Whether you have a minor or major plumbing problem, the specialists at Biard & Crockett have the deep experience required to assess the situation. We apply this same expertise to developing just the right plan and carrying out a repair that restores the health of your system. Our local plumbers always arrive onsite with the diagnostic and repair equipment needed to get the job done, from traditional tools such as snakes and augers to the latest technological innovations in the plumbing field. We use this equipment to do such things as positively verify the location of all leaks (even those hidden beneath slabs or behind walls) and clear out any obstructions blocking the normal flow in your water supply lines or sewer lines.
Water and Gas Repiping
Repiping is a plumbing industry term used to describe the replacement of plumbing and gas lines that are seriously damaged or no longer meet the needs of your home or commercial building. Specific problems that may trigger the need for a scheduled or emergency repiping job include multiple leaks in a sewer or water line, and leaking or other forms of instability in a natural gas line. This type of work may be essential for preserving the safety of your building. As an added benefit, it can help you trim utility waste and reduce your monthly utility bill.
A professional assessment from Biard & Crockett will reveal the presence of any water, sewer or gas line issues that merit repiping instead of a spot repair. After explaining the rationale behind this determination, we'll use your choice of plumbing materials to replace a specific line in your system, multiple affected lines or (in a worst-case scenario) an entire affected system. Some companies rely on highly destructive and intrusive methods to replace damaged lines. However, we rely on minimally invasive techniques that allow us to accomplish the needed repiping work with little or no collateral impact on your property.
Water Filtration and Backflow Prevention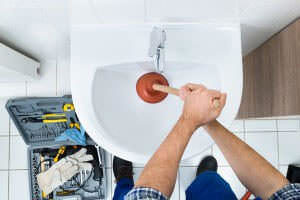 Water filtration devices and systems perform two important functions. First, they improve the taste of the drinking water at all equipped faucets in your home or commercial building. At the same time, they eliminate or substantially reduce your exposure to impurities and contaminants with the potential to damage your health. Biard & Crockett carries and installs a wide range of water filtration devices and systems, from spot-use devices that cover a single tap to in-line systems that cover multiple taps simultaneously. In addition, we carry and install systems that can help you eliminate or avoid issues caused by water with a high mineral content (i.e., hard water).
We also specialize in the installation of backflow prevention devices. These devices play a crucial role by preventing contaminated water from flowing from your sewer lines into your drinking water supply. This dangerous scenario (known as backflow) can occur whenever an unusual shift in water pressure affects your plumbing system, or when a vacuum forms inside a line that carries drinking water. Examples of the backflow prevention equipment we can install in your home or business include atmospheric vacuum breakers, pressure vacuum breakers and double check valves.
Water Heater Repair and Installation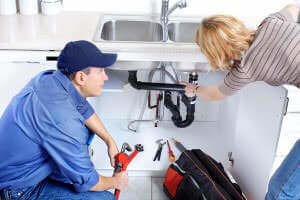 Like all appliances that carry heavy workloads for extended periods of time, water heaters eventually develop problems that call for some kind of repair. In many cases, malfunctions in a water heater require nothing more than a limited repair. However, extensive or recurring malfunctions may make repair an ineffective option. When this type of situation arises, you'll need to replace the entire water heater.
At Biard & Crockett, we have decades of experience repairing every kind of water heater commonly installed in older and newer buildings, including conventional storage heaters powered by electricity or gas, and tankless systems that provide on-demand hot water. Whenever we can, we'll get your current heater back online with a spot repair or larger series of repairs. In circumstances where a repair no longer makes practical or financial sense, we'll install a brand-new, energy-saving replacement. In addition to providing options that match your existing water-heating technology, we can help you switch over to a new type of system.
Your Trusted Cypress Plumbing Specialists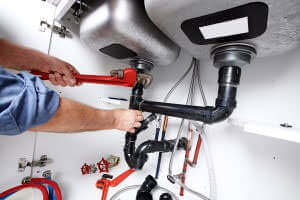 Situated in north Orange County on the Los Angeles County border, Cypress is a city of approximately 50,000 known in the past as Dairy City and Waterville. Today, the community serves as home to several major corporations, including Mitsubishi Motors North America, shoe and clothing manufacturer Vans, toy and game manufacturer Bandai America and the Real Mex restaurant chain. Area residents and visitors enjoy easy access to some of the region's most popular attractions, including Adventure City, Disneyland, Disneyland California Adventure Park and Knott's Berry Farm.
Biard & Crockett is based just east of Cypress in the City of Orange. For more than half a century, we've served the region with trustworthy, convenient plumbing services and a customer-oriented approach that blends traditional plumbing expertise with an up-to-date understanding of the latest technological advancements. Whether you need repair or replacement of your plumbing or gas lines, water heater repair or replacement, or installation of a backflow prevention device or water filtration system, we're your one-stop solution. We also specialize in all kinds of plumbing-related home remodeling jobs. Call us today to arrange your appointment.
Other Orange County cities where we provide Plumbing Services: