For more than 60 years, Biard & Crockett has been delivering quality products, parts, and services to Rancho Santa Margarita. Over those decades, we have become an integral part of the community, allowing residents and businesses to count on our plumbing services at any time of the day or night. We take pride in the fast, dependable service we offer and our comprehensive slate of services that ensures you always have access to the work you need when you need it. 24/7, 365 days a year, our team is just a phone call away.
Licensed and Bonded Plumbers, Always Here for You
We only hire plumbers who have the best qualifications for the job, and then we put them through our rigorous in-house training. No technician will work on your home unless they are fully capable and experienced. All of our local plumbers are licensed and bonded, making it easy to put your faith in them. Also, we are a licensed distributor of most major plumbing brands, which means we always have the parts we need on hand.
However, we know that great technicians and access to parts is not all there is to offering you quality service. We want you to feel comfortable with us as much as we want you to feel confident in the work we do. As such, our technicians will always be in uniform, present themselves as the professionals they are, and treat your home with respect. When they are done with their work, they clean everything well to ensure there is no trace of them having been there.
Repiping Services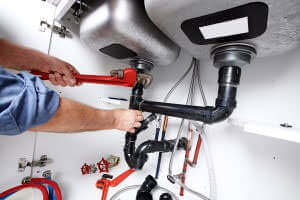 When it comes to our work, we try to take the most conservative approach possible. We do this to save you time, money, and general hassle. However, there are times when the pipes in your home or business will be too far gone to save. In these cases, repiping is needed.
Now, that might sound like your home or business will turn into a construction zone, but this is not necessarily the case. Here at Biard & Crockett, we utilize innovative approaches that allow us to complete many jobs in minimally invasive ways. This is also true when it comes to repiping.
In addition to water pipes, we can repipe your gas lines safely. We can also integrate all appliances that are part of your plumbing or gas system. If your pipes need to be replaced, we can usually avoid tearing out walls and getting inside the floors using innovative methods that save you mess, money, and time, completing the job in about a day.
Water Heaters
As we have been in the business for decades, we have had the chance to work with just about every make and model of water heater, even some of the more obscure brands. Because of this, we are confident that whatever water heater you have or wish to buy, we can install it, maintain it, and repair it. For all your water heater needs, Biard & Crockett is the team you should turn to.
Water heaters have an important job within your home or business, and going without it means disruption at best, and complete shutdown at worst. As soon as we get your call, we will arrive ready to diagnose and repair the problem. If the problem is severe, we might recommend replacement, but this is always a last resort.
Should you need a new water heater, we can help you determine which one is best for you to purchase. To do this, we consider factors such as the number of people using the hot water each day, how much is consumed on average, and even how frequently you use the hot water throughout the day. Once we know these variables, we will recommend multiple models so you can choose the one you like best.
Water Filtration and Backflow Systems
We cannot live without water, and while the municipal water in Rancho Santa Margarita is potable, it isn't quite to everyone's tastes. We do not want anyone to be stuck with drinking water they do not like. To help, we have systems that improve the quality of the municipal water.
The main way we do this is through water filtration systems. We offer two types of filtration systems: in-line and reverse osmosis. Both types purify water and improve its taste. The right choice for your home or business will depend on a variety of factors, and neither type is inherently better than the other. If the problems with your water have less to do with purity and more to do with having hard water, we can also offer you a water softening system.
Sometimes there are problems that go beyond what filtration and softening systems can handle. If you are on the municipal sewer system, it is possible to experience a reversal a flow that brings sewage into your pipes, contaminating the water. Backflow prevention systems stop this from happening. These systems detect the reversal of flow and shut off access to your pipes. An alarm will sound, alerting you to call us so we can fix the issue if possible and ensure that no contaminated water is inside of your pipes.
Like other parts and systems we offer, filtration, softening, and backflow prevention systems are kept in stock at all times, allowing us to deliver quality solutions quickly. Once installed, we will teach you how to use the systems and create a maintenance schedule. And, of course, we would be happy to take care of all maintenance for you.
Fast Plumbing Service in Rancho Santa Margarita
No matter where you are located in Rancho Santa Margarita, we are ready to get to work for you. For inspection, maintenance, repair, or replacement, all you need to do is give us a call. We are confident that we are the right choice for you.