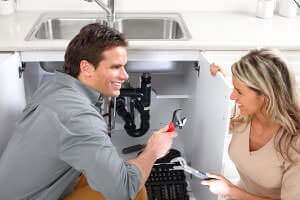 Not many plumbing services can say they have been serving Villa Park for nearly six decades, but Biard & Crockett Plumbing can, and we are proud to do so. We have been serving the area since 1960 and the city since 1962 when it was incorporated, providing top-of-the-line service to residents and businesses alike. We have seen it all, and no matter how old or new your home or business is, we can promise that our technicians will know exactly how to tackle any problems they encounter, providing you with the best solutions for your building and for your budget.

We provide all the plumbing services you might need, from basic maintenance to keep things running smoothly to repairs and even replacements when your plumbing system is no longer salvageable. We even offer services for new construction or renovations. No matter what you need, if it is related to plumbing, we are your Villa Park plumbing service.

Fully Licensed and Bonded Plumbing Technicians

When you do something for over 60 years, you get really good at it, and that is how long we have been in the plumbing business. As you can imagine, we have become masters of our craft. Over the years, we have handled everything from minor clogs to collapsed sewer systems, delivering solutions that help homeowners and businesses get back to life while keeping everything within budget.

Of course, it isn't enough to just have a service that knows what it is doing. You also need some assurances that the company is taking all possible steps to protect you and your property. That is why we only use fully licensed and bonded plumbing technicians that have been both vetted and trained by us. Our professionals show up at your home or place of business clean and well groomed, always wearing a Biard & Crockett uniform so you know you can trust them. We do what it takes to make certain you can feel confident in putting your faith in us.

Repiping Services

When it comes to dealing with leaks, or any plumbing problem, our preference is to take the most conservative approach possible. The goal is to save you time, disruption, and money whenever it is possible to do so. However, there are occasions when we discover that the problem is bigger than expected, and in some cases, the entire plumbing system will need to be replaced.

This process is called repiping. Biard & Crockett can complete repiping jobs for both water and gas lines without tearing your home or building apart. We make minimal cuts into the walls and floors, doing so only to access the most hard-to-reach areas. This keeps our costs down, eliminates most disruption to your home or business, and ensures you do not need to remodel your home just because you needed to replace your plumbing. In most cases, we can complete the entire procedure in less than a day. Very few plumbing services can offer minimally invasive repiping, but the Biard & Crockett team can.

Water Heater Repair, Service & Installation

Your water heater is a vital appliance in your home or business. At home, it helps to keep you and your family comfortable and healthy. In your place of business, it does the same, and it is also required as part of health and safety standards. So when a problem occurs, you need to get it fixed quickly. Luckily, you have us on your side.

Biard & Crockett also has extensive experience installing, servicing, and repairing water heaters of all makes and models. If you need a new water heater, we can even help you determine which one is best for you based on the demands of your household or business and then install it for you. As always, our goal is to take the most conservative approach, so before we recommend replacement, we will always try repairing the water heater.

Water Filtration and Backflow Prevention Systems

Biard & Crockett understands how important clean, healthy water is to your family or place of business. The municipal water in Villa Park is potable, but that doesn't mean it is enjoyable. We offer systems that can improve your municipal water, making it a delight to drink. We offer standard and reverse osmosis water filters, as well as a water softening system for homes where the water has a high level of minerals. Not only will this provide you with better water, but it will encourage you to drink, improving the health of your family.

Biard & Crockett also specializes in a specific type of water quality system called a backflow prevention system. For homes that are on the local sewer system, there is a risk that a reversal of pressure in the water line can cause your home's plumbing taking on non-potable water, putting your health at risk.

Backflow prevention systems detect reversals in flow and shut off the water coming into your home. This then alerts you so you can seek help in addressing the problem. As always, we are here to help.

We keep all filtration, softening, and backflow prevention systems in stock. Our team can install them, maintain them, and repair them for you. There is no reason to settle for low-quality or unsafe water in your home or business.

We Are Here for You Anywhere in Villa Park

We have been serving Villa Park since it was an official city, offering high-quality service utilizing innovative solutions. There is nowhere within the city that we do not offer our service. The next time you require the services of a plumber, don't bother with the phone book or Google; simply turn to us.

We know that we are not the only service to choose from in Villa Park, but we are confident that we are the best. With affordable and reliable service, we will have your home or business back in working order in no time. Day and night, our team is here for you.
Other Orange County cities where we provide Plumbing Services: