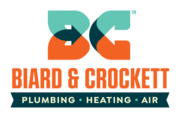 When the residents and businesses of Orange County need excellent plumbing services with a fair price tag, they rely on us at Biard & Crockett Plumbing Services. For the last several decades, we have made it our passion to repair and replace broken fixtures throughout your home, provide superb remodeling services, and offer exceptional hardware parts for enthusiastic DIY-ers. This is all part of our repertoire at Biard & Crockett Plumbing Services, and we consider it an honor to be called upon by the residents and businesses in beautiful Costa Mesa who need the most experienced plumbing work performed by friendly professionals at surprisingly low prices. You may be surprised at all the ways we at Biard & Crockett Plumbing Services can serve you! Please read on to learn more about our services.
Our Range of Plumbing Services
Plumbing Services – At Biard & Crockett, plumbing expertise has been our game for decades. When you have a plumbing problem in your home or business, it can be incredibly frustrating. We have the tools and experience to correct any plumbing issue, as efficiently as possible. The world of plumbing encompasses many parts of your home, and it is essential to make any necessary repair as soon as possible, in order to keep costs down and your property safe and running smoothly.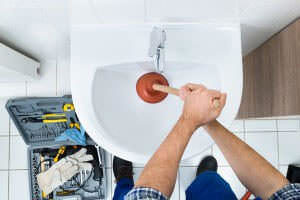 Drain Cleaning – Clogged drains are possibly the most common plumbing issue we see at Biard & Crockett. Whether it's from hair, toilet paper, grease buildup, food particles, or any other debris, a clogged drain needs to be cleared as soon as possible. Home stores sell many DIY solutions, but sometimes it just isn't that easy. Our plumbers can easily and safely remove the pipes, clear the blockage, and put the system back together again, making sure everything is running smoothly…literally! Also, we can decipher if pipes are old and should be replaced. If the clog is in a larger area, like in your sewer lines, we can run a camera down the pipe lines to pinpoint the precise location of the clog. We also use chemicals to dissolve certain clogs, which are safe for the environment and your home, as well as special drain cleaning machines and hydro-jets, should the job call for it.
Slab Leak Detection & Repair – Slab leaks are tricky business. They are the pipe leaks that occur in water lines running beneath a building's concrete foundation. At Biard & Crockett Plumbing Services, we utilize the latest technology to detect the exact spot of the slab leak. We then either do spot repairs, reroute the leak using a new pipe system thereby abandoning the old and leaky pipe, or sometimes use an epoxy solution, depending on the size and location of the leak.
Repiping & Repair – When something is up with your water or gas lines, you need to rely on trusted experts to get the job done by handling the issue correctly. At Biard & Crockett, that is precisely what we do. Whether you have a gas leak or water leak, we can detect the location of the leak and figure out the best solution. Sometimes these leaks call for a small repair at the source of the leak. But sometimes it calls for a bigger job, depending on the size of the leak and the age of the lines. In that case, we may recommend repiping, wherein we remove all the old piping and replace it with new lines. Though this is obviously the lengthy and costly option, it is often the only way to correct the issue and keep you and your loved ones safe.
Water Heater Systems – At Biard & Crockett Plumbing Services, we can repair or install any type of water heater you have, or want, as well as install a recirculation system if your water heater and water fixtures are far apart. Depending on the number of people in your home, and the amount of water you tend to use, we can help you select the perfect sized water heater. And these days, many people are choosing tankless systems for their home, which deliver on-demand hot water instantly.
Water Filtration & Systems – No home or business should be deprived of clean, pure water. At Biard & Crockett Plumbing Services, we have a number of specialty water services to make sure the water in your home is most efficient. We can install water softening systems to reduce the amount of calcium and magnesium in your water, keeping your hair and skin soft and your fixtures free from limescale buildup. We also carry sensational water filtration systems for the whole house or point of use and even reverse osmosis systems, which are excellent for removing all manner of impurities and contaminants from your water supply. Installing backflow prevention devices is also one of our specialties. These particular systems block common, unfiltered water from entering your drinking supply, the benefit of which goes without saying.
Remodeling – At Biard & Crockett, we are more than the plumbing services your home or business needs to run smoothly–we also have an expert team of designers and renovators who can help you remodel your kitchen and bathroom to look incredible and be kitted out with the most cutting edge fixtures on the market.
Why Choose Biard & Crockett Plumbing Services in Costa Mesa?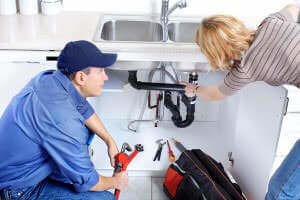 When you need professional, reliable plumbing repairs, replacements, and installations in Costa Mesa, we at Biard & Crockett have the knowledge and tools needed to make each job an absolute success. Having worked throughout the Orange County area for many decades, we know the services that are most necessary here and have made it our business to deliver the finest work, combined with the friendliest customer service, for an experience you won't forget.
If you have a question about any of the services we have discussed here, or are wondering if there is a service we perform not yet mentioned, do not hesitate to give us a call at 714-602-1299, or schedule service online.
Other Orange County cities where we provide Plumbing Services: