Your Choice for La Habra Plumbing Services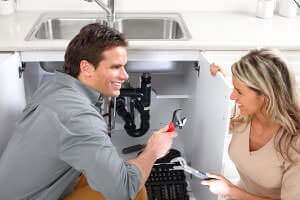 High-quality plumbing services are essential for both homeowners and business owners. Without the benefit of knowledgeable, trustworthy specialists, even minor problems with a water or sewer line can quickly escalate into a major safety and sanitation hazard. In addition, only qualified experts can reliably perform new plumbing installations or carry out certain types of maintenance.
In the City of La Habra, the name to trust in plumbing is Biard & Crockett. For more than five decades, our bonded, licensed plumbers and technicians has provided residents and businesses throughout this vibrant community with the very best in repair, replacement, installation, and maintenance services. Day or night, you can count on our unbeatable combination of plumbing expertise, top-flight customer service, convenient scheduling, and affordability.
Our General Plumbing Services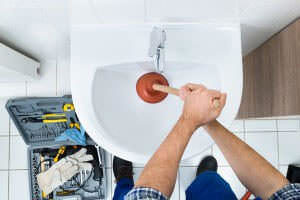 Virtually all homes and businesses eventually experience some kind of plumbing problem. In most cases, such problems are relatively minor and respond well to limited spot repairs. However, in some situations, water or sewer lines in your home or business may suffer from more serious plumbing issues, or develop issues with uncommon or hard-to-detect underlying causes.
No matter what type of general plumbing problem you experience, the seasoned experts at Biard & Crockett have the skill and experience needed to make an accurate diagnosis and supply an effective solution. Every vehicle in our modern fleet is equipped with a complete package of diagnostic and repair equipment, including everything from basic items such as augers and snakes to the very latest in leak detection technology. Our expertise with leak-detecting audio and video tools makes it possible for us to track down the source of even the most elusive problems, including slab leaks and pinhole leaks hidden behind walls. Similarly, our expertise with hydrojet cleaning technology makes it possible for us to clear out even major sewer line obstructions.
Water and Gas Repiping
Repiping is a general term for the systematic replacement of outdated or severely damaged plumbing and gas lines. Your residence or business may require this kind of large-scale replacement in order to address such problems as recurring water/sewer line leaks or highly dangerous natural gas leaks. In addition to helping you maintain a safe, sanitary environment, repiping work can help you keep your long-term utility costs under control.
The professionals at Biard & Crockett will let you know if you have plumbing or gas line problems that call for a repiping solution. After gaining your approval, we'll begin work and install a new section (or even an entire system) with your preferred material. And unlike some companies that rip up your floors or tear out your walls to get the job done, we specialize in minimally invasive repiping techniques that help keep the overall cost of replacement within a reasonable range.
Water Filtration and Backflow Prevention
Water filtration devices help improve the taste and overall quality of your drinking water supply by removing contaminants and impurities. Even in a region like Southern California, with its notable high-quality water sources, this type of device can provide significant benefits. At Biard & Crockett, we stock and install a variety of filtration products, including in-line systems and reverse osmosis systems that provide you with a convenient equivalent to expensive bottled water. We also stock and install water softening systems that can help you avoid problems associated with high-mineral (hard) water.
We can also install devices that help you avoid something called backflow. This dangerous phenomenon occurs when water unfit for human consumption finds its way into your residential or commercial drinking water. As a rule backflow events are the result of abnormal shifts in water pressure or the formation of a vacuum inside a drinking water line. Our highly trained plumbers can install a range of backflow prevention devices, including double check valves, pressure vacuum breakers and atmospheric vacuum breakers.
Water Heater Repair and Installation
Faulty water heaters commonly exhibit telltale signs such as odd noises or unusually slow hot water production. If you notice any of these problems, the appropriate remedy may require nothing more than a limited repair. However, in some cases, water heaters develop extensive or severe problems that go beyond the repair stage and call for a complete unit replacement.
Biard & Crockett has the experience and training needed to diagnose and repair problems in all kinds of water heaters, from conventional, gas- or electricity-powered storage heaters to ultra-modern tankless units. If at all possible, we'll use our expertise to get your existing heater back in action. We'll also let you know if replacement of your unit makes more sense than a repair. If you like, we can install a new, energy-saving conventional water heater to replace your existing conventional unit. However, we also have the skill required to install tankless heaters made by any major company on the market. Whether repair or replacement works best, you always receive the same high level of courteous service and respect for your property.
Your Trusted La Habra Plumbing Specialists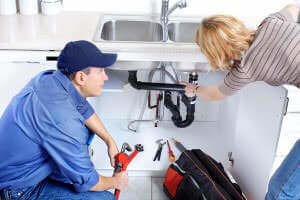 Situated in the northwest corner of Orange County, La Habra is a thriving community of 62,000-plus residents. First settled in the late 1800s, it was officially incorporated as a city in the mid-1920s. From its very beginning, La Habra has enjoyed strong ties to California's vital agricultural industry (as reflected in the area's annual citrus, corn and tamale festivals). The city features more than 20 parks, and hosts cultural events such as the Gem and Mineral Show, Concert in the Park and A Night at the Museum.
Biard & Crockett is located just a short drive from La Habra in the City of Orange. Since 1960, we've provided the local community and the rest of Orange County with the region's most reliable blend of value, technological innovation and good old-fashioned plumbing knowhow. In all situations, we've got you covered, whether you need a simple repair, replacement of faulty gas or water lines, or installation of a new water heater, filtration system or backflow device. We can also help you establish an appropriate maintenance routine for your residence or commercial building. Call us today and find out why we're La Habra's trusted plumbing specialists.
Other Orange County cities where we provide Plumbing Services: