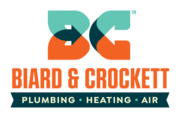 Biard & Crockett provides expert heating & air conditioning repair and installation services in Orange, CA. We install, repair, and service all makes and models and carry the very best and latest models of HVAC equipment when it's time for replacement. For six decades, Orange County residents have been able to turn to us to keep their homes safe and comfortable.
You probably recognize our HVAC technicians around town because our professionals wear a clean Biard & Crockett uniform and drive our fleet of company trucks. When we train our heating & cooling technicians, we also teach courteous and respectful behavior. What's more, our HVAC techs are fully licensed, bonded, and insured.
When our skilled technicians arrive at your Orange home or office, they will conduct a thorough diagnosis of your heating & cooling issue and prepare an estimate with several options. We stock our trucks with any tools and parts necessary to fix most HVAC issues. If we need a special tool or part, we will likely carry it, and can send for it quickly. And when we conduct our repairs, we stick to our estimate and finish on time. Call us today to experience the Biard & Crockett difference!
AC Repair Services
When the sweltering heat of a hot day causes your air conditioner to malfunction, the comfort of your indoor activities is immediately compromised, making it nearly impossible to get a restful sleep. But fear not! Delaying the resolution of this issue will only prolong your discomfort. Instead, take proactive action by reaching out to the air conditioning repair experts at Biard & Crockett, who are dedicated to providing fast and reliable AC repair services.
We leave no stone unturned when it comes to examining and resolving issues with your cooling system. Our meticulous process guarantees that every aspect of your AC is thoroughly inspected, allowing us to address any underlying concerns and restore your unit to peak performance. With our expertise and attention to detail, you can have full confidence that your repaired air conditioner will deliver the cooling power you need.
AC Tune-Up Services
Although air conditioners are generally known for their reliability, it is crucial to prioritize regular maintenance in order to ensure their optimal performance. At our company, we highly recommend scheduling routine maintenance for your AC because we understand that this preventive measure significantly decreases the likelihood of unexpected breakdowns and helps you avoid costly repairs.
We possess the knowledge and expertise to thoroughly inspect your AC, identifying any potential issues or areas of concern. Through our comprehensive maintenance procedures, we can clean and optimize the various components of your AC system, ensuring it operates efficiently and effectively.
Don't overlook the importance of regular AC maintenance. Contact us today to schedule an appointment with our skilled technicians who will help keep your air conditioner performing at its best.
Air Conditioning Installation and Replacement Services
If your current AC system is failing to keep your Orange County home comfortable, it might be time to consider upgrading to a new, high-efficiency AC system that guarantees exceptional performance and reliability for years to come. When you find yourself in this situation, don't hesitate to reach out to the dedicated AC team at Biard & Crockett. We understand the urgency of your cooling needs, and our prompt response ensures that we address your concerns swiftly. Our knowledgeable team will work closely with you to assess your requirements and help you choose the perfect AC system that aligns with your specific needs. By thoroughly analyzing your home's layout and considering your cooling preferences, we can provide a tailored recommendation that guarantees optimal performance and energy efficiency.
A Trusted Local HVAC Contractor in Orange, CA
When something is wrong with your heating & cooling system, you need help quickly. Reach out to the HVAC experts at Biard & Crockett. For more than half a century, we've provided fast, friendly service to Orange, CA and the surrounding areas. We've grown our business by providing the kind of service that draws repeat customers and happy referrals, and we'd welcome the chance to serve your heating and cooling needs!